Acoustic Sensor Unit
The versatile and affordable design of SSC's compact acoustic sensor may be adapted to meet multiple customer specifications. This page highlights tracking of ground and air vehicles with internal combustions engines. Algorithms for impulsive sources (gunshots, mortars, explosives, etc) have been developed. Applications have been explored for tracking small drones, detecting and localizing voices, and interpreting ship's horn and bell signals.

Download the ASU Brochure (PDF 148KB)
---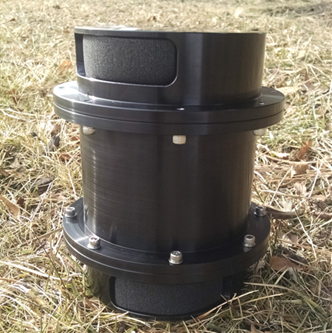 Sensor Features
Integrated acoustic sensing and signal processing
Low power SHARC processor for passive vehicle azimuth and elevation reporting
Wake-up subsystem for ultra low-power consumption
Contact reports via RS-232 or RS-485
Alarms Current DHS UGS upon elevated target detection
Acoustic horn maximizes aperture & reduces wind noise
Wind screens and camouflage available in various sizes
Robust environmental design
Supports ground mount or elevated hanging
Sensor Benefits
Covert, long endurance acoustic unmanned ground sensor (UGS)
Affordable
Bearing and elevation accuracy available upon request
Compact size - 4.25" diameter, 6.5" tall
Weight: 5lbs with seven batteries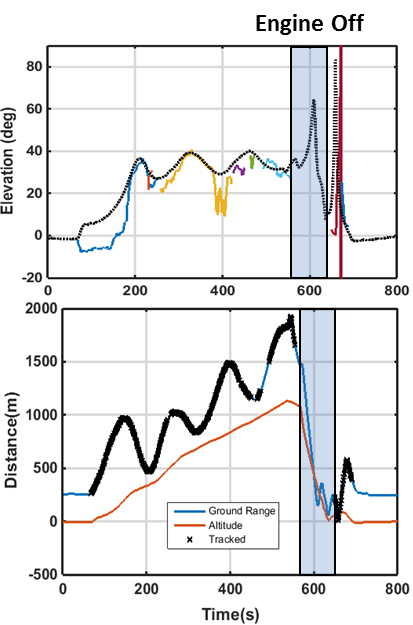 Power Consumption
Sleep Mode (0.75 mW)

Wake-up CPLD
Single microphone and amplifier
Clock

Active Mode (426 mW)

Bearing & Elevation Subsystem
All microphones and amplifiers
SHARC DSP Processer

Power Source: 7 D-Cell lithium batteries

1.2 year life at 10% duty cycle for Active Mode
10.6 year life at 1% duty cycle for Active Mode
Performance
The two plots on the right illustrate the elevation sensing performance against an ultralight target. In the top graph, the black dotted line is the ground truth, the actual, GPS measured elevation angle of the ultralight relative to the ASU. The colored lines show the ASU's elevation estimate at the time. During the highlighted blue region shows, the pilot turned off the engine
The lower plot shows the altitude and distance along the ground the ultralight was from the ASU. The black highlighted areas indicated where the ASU was tracking the ultralight
Vehicle Based ASU
Vehicle Based Sensor Features
Integrated acoustic sensing & signal processing
Low power SHARC processor for passive vehicle azimuth and elevation reporting
Noise cancellation eliminates platform noise in sensor, improving target detection
Contact reports over UDP
Streaming audio with noise cancellation over UDP
Runs on 28VDC
Draws 5W of power
Weight <5 lbs
The image below shows the usefulness of employing active notice cancellation algorithims in the detection and tracking process. The top plot shows how the tones from the vehicle can be removed from the microphone data. The images below that show how active noise cancellation prevents the ASU from tracking the vehicle it is mounted on.